High Brightness WUXGA Business Projectors MU686
Projection Perfect for Every Occasion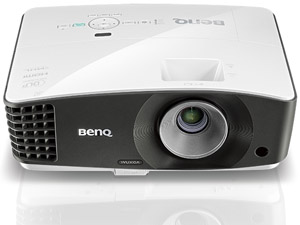 BenQ MU686 is just what you need to perfect your presentation in all settings. Boasting 3500 ANSI lumens and 20000:1 high contrast ratio, this WUXGA projector also offers auto vertical keystone correction for diverse display options to keep your presentations looking great!
key features
WUXGA Native Resolution
3500ANSI Lumen High Brightness
20000:1 High Contrast Ratio
Whisper Quiet 31dB in Daily Meeting
Wireless Presentation via Your Smart Device by Qcast (optional)
Features
Brilliant Visual Performance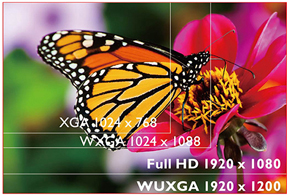 High Resolution
With WUXGA* native resolution up to 1920 x 1200, MU686 supports resolution from XGA, WXGA, Full HD to WUXGA, offering crisp and accurate images in all of your presentations.
High Brightness and Whisper Quiet 31dB
Perfect for a Formal Business Meeting and Negotiation
Conventional high-brightness projectors make a lot of noise. But, not the MU686, which pumps out 3500 lumens of ultra-high brightness with only 31dB of sound, even on full power. Silent and brilliant, your presentation will command the audience's full attention with no distractions.
High Contrast Ratio
The 20000:1 high contrast ratio ensures that every text, image, graph, chart and video is projected with optimal clarity and enhanced sharpness, especially for numerical data. This enables presenters to view their presentation files clearly and allows the audience to stay focused on the contents projected.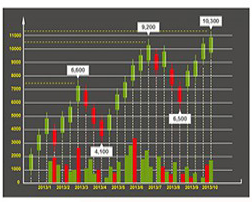 Low Contrast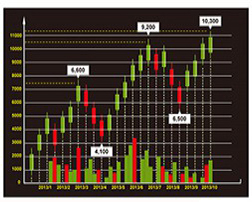 High Contrast
Independent 3D Color Management for Six Primary Colors
BenQ's exclusive 3D color management tool ensures 100% uncompromised color customization with the freedom to independently fine-tune the hue, grain and saturation levels of all six primary colors (R/G/B/C/M/Y).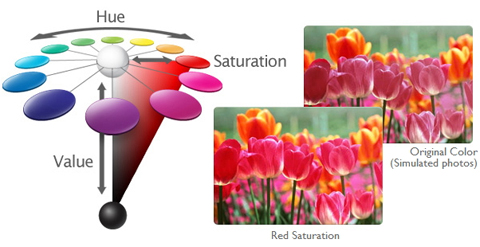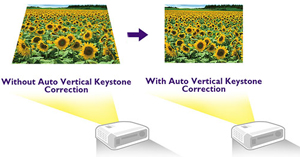 Easy & Hassle-free Setup
Auto Vertical Keystone
Auto vertical keystone correction enhances installation flexibility by correcting the trapezoid effect via vertical adjustments up to +-40 degrees. With it, the projector can be placed off center and the presenter can stand in front of the screen without blocking the image.
Big Zoom for Big Pictures in Any Space
1.3x Big Zoom feature frees up space with an impressive range of throw distances and projects images up to 300" wide, giving you the flexibility of placing the projector anywhere without compromising your current decor.
Simple Operation
Full HD Wireless Presentation via Your Smart Device by Qcast (Optional)
Every detail of MU686 is optimized for business. Wireless streaming in Full HD resolution is activated with a touch of the Qcast button on both the projector and remote control. And a new control panel keeps all projector controls at your fingertips. The simple plug & play QCast WiFi dongle is even designed to plug into a hidden port, keeping the minimalist design uncluttered.
* Optional QCast WiFi dongle available separately.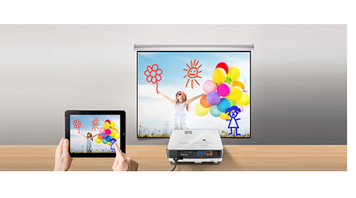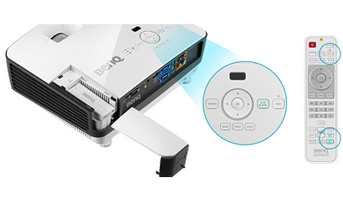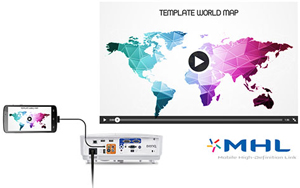 MHL Connectivity
With the support of MHL technology, you can stream content from your smartphone or tablet instantly. Simply connect your device via a MHL cable and watch the flawless mirroring of contents expand onto the projector screen.
Various 3D Format Supported
MU686 is standard-equipped with DLP Link™-supported 3D projection to offer you the same amazing 3D effects seen in 3D movies. The 3D formats supported by the MU686 are 3D field-sequential, 3D frame packing, 3D top-and-bottom and 3D side-by-side. Furthermore, this incredible projector can be connected to a Blu-ray DVD player for even more stunning visual quality.

1.5A USB Type-A Power Supply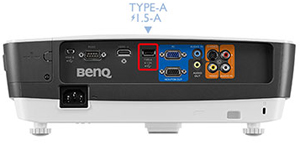 Users can charge their mobile devices through 1.5A USB Type-A power supply through USB Type-A. You don't need to worry about your mobile device running out of battery while streaming your presentation content during meetings.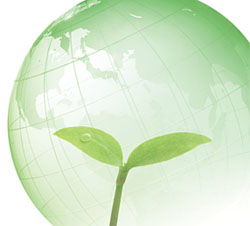 Power Saving, Eco Friendly
World-Leading SmartEco Technology for a Greener Environment
As the first DLP brand to incorporate Philips' ImageCare technology into its projector lamp system, BenQ has taken a further leap, developing its own SmartEco Technology to perfect what DLP can do for energy saving. Built with this brand new invention, the MU686 brings together uncompromised brightness, exquisite picture quality and optimized lamp life through innovative features.
SmartEco Mode
The SmartEco Mode cleverly adjusts the lamp power to maximize power saving by delivering the best contrast and brightness performance using only as much light as needed.
Normal Mode
260W Projector Power Consumption by Average
SmartEco Mode
Enhanced Details in Darkened Scenes 210W Projector Power Consumption by Average
EcoBlank Mode
If the projector is detected to be without a display source for over three minutes, the system will automatically switch to EcoBlank Mode, eliminating unnecessary energy waste and prolonging the life of the projector lamp.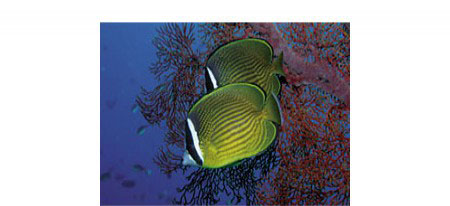 Source Detected 100% Lamp Power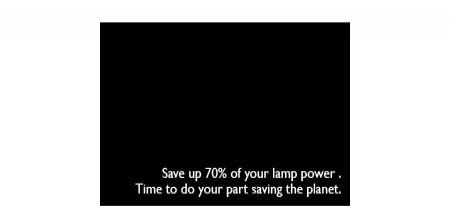 No Source Detected 30% Lamp Power
Auto Power Off
If the projector is found to be without a display source, the system will automatically turn off the projector, eliminating unnecessary energy waste and prolonging the life of the projector lamp.
0.5W in Standby Mode
When inactive, the MH750 keeps power consumption to a minimum (<0.5W standby power), achieving what was once a challenge for earlier projector models. This technological advancement in energy saving helps lower energy costs.
BenQ DLP® Projectors Perfectly Long Lasting Picture Quality with DLP Projection Technology
Digital Light Processing (DLP), awarded 2015 Academy Award of Merit (Oscar® statuette), is the leading projection technology used in 90% of world's digital cinemas and 100% of IMAX theaters. With DLP dominating the projector market with over 50% share, BenQ is today the #1 bestselling DLP projector brand, delivering unmatched world-class performance.
Long Lasting
The incredibly durable micro-mirrors of the DLP chip and the nearly-sealed DLP engine design mean that BenQ DLP Projectors stand the test of time without any loss in picture quality. Eliminating dust buildup and heat damage, BenQ projectors shine year after year and look as good as new with a simple lamp change.
BenQ DLP Projector

Non-DLP Projector

Razor-Sharp
Critically acclaimed for industry-leading high contrast, BenQ DLP Projectors also produce the most crisply defined sharpness for crystal-clear details and legible text by maximizing the fill ratio of individual pixels and employing exclusive BenQ SmartEco™ Technology.