Available in capacity of 32GB, 64GB, 128GB and 256GB, the PNY Turbo USB 3.0 drive delivers big performance and convenience in small size. Powered by the blazing-fast USB 3.0 technology, you can quickly transfer and share files on the go. A retractable sliding collar protects the USB connector when not in use, and eliminates the worry of losing the cap. An integrated strap hole allows you to attach your drive to key chain, backpack or other places convenient to you. Plus, the PNY Turbo is Plug-n-Play and easy to use, offering great digital storage for life on the go.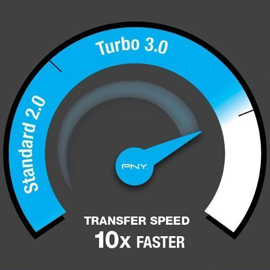 USB 3.0 – The Next Generation of Speed
Get the most out of the USB 3.0 port on your new laptop or desktop computer, and experience USB 3.0 next generation speed performance. The Turbo USB 3.0 Flash Drives have transfer speeds approx. 10X faster* than standard PNY USB 2.0 flash drives.

*Speeds quoted for USB 3.0 devices. Speeds are based on PNY standard USB 2.0 (3.0 MB/s) write speed. Performs at USB 2.0 speeds when used on 2.0 devices.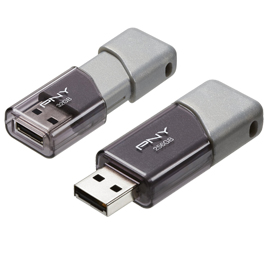 Designed for Reliable Portable Storage
PNY's Turbo USB 3.0 Flash Drive is designed with convenience and portability in mind. The portable, light-weight flash drive incorporates a sliding collar capless design that eliminates the loss of caps. This USB 3.0 flash drive is small in size, but big on performance and capacity.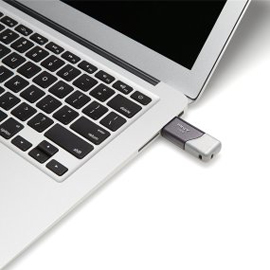 Compatible with PC and Mac Computers
From videos to music to photos to important data — with PNY's Turbo USB 3.0 flash drives, your important files are never out of reach. The drive is designed with convenience and portability in mind, and is compatible with both PC and Mac computers, as well as other devices such as tablets, TVs, car stereos, and more.