Jump into the on-screen action. The Panasonic TY-ER3D4MU 3D glasses are compatible with Full HD 3D standard, and deliver large viewing area and clear images that bring your experience to the next level. The stylish, lightweight design allows a comfortable fit, even after hours of continuous use. For your convenience, these eyeglasses come with built-in rechargeable battery, eliminating the hassle of changing battery.
The Panasonic TY-ER3D4MU 3D eyewear is compatible with 2012 and 2013 Panasonic VIERA 3D TVs using radio frequency for synchronization, and CAN NOT work with 2011 (and prior) models that use infrared for synchronization.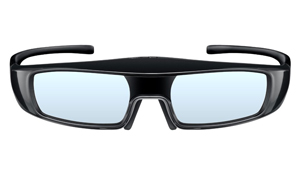 Quick Charge and Long Use
A quick charge of approximately 2 minutes allows 3 hours of use. A 30-minute charge allows extended use for approximately 30 hours.
Lightweight
Weighing only 27g, they can be comfortably worn for long periods of time.
Compliant with the FULL HD 3D Glasses Standard
These eyewear use an RF (wireless) system based on Bluetooth. RF communication enhances stability for high-quality 3D viewing.
Please Note:
The battery duration will change as per the total usage time with the number of charge/discharge cycles.
The location of the 3D Eyewear transmitter differs depending on the model of television.
There are differences in the viewing range of the 3D Eyewear among individuals.
Warranty, Returns, And Additional Information