Let your pet nap in comfort and style with the Luxury Square Dog Bed Set. The pet bed features a high-density molded foam, while the tufted pillow is filled with soft poly fabrics, giving your dog a combination of firm support and soft comfort. The dedicatedly designed open front allows your dog to step in and out easily. The micro-suede fabric covers with stylish color hues makes them look elegance, while perfectly outfitting any décor in your room.
Additionally, this pet bed is available in four different sizes (Small, Medium, Large, and Extra-large), and comes in your choice of colors and patterns. This large version measures 27" W x 23" D x 12" H.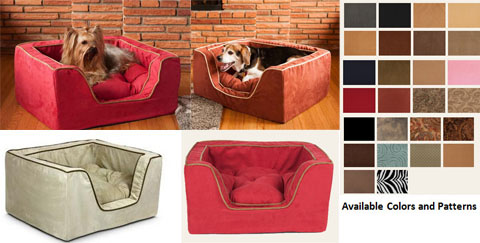 Creates a Cozy Den for Your Dog Your pet will feel like a royalty in this Luxury Square Dog Bed Set. The pet bed's high density foam molds to your dog's form, providing the perfect level of support. A separate tufted pillow is stuffed with super-soft poly fillings, ensuring maximum comfort. The overstuffed bolster makes your pet feel safe and secure.
Convenient Open Front Design Your little puppy can easily get in and out of the bed through the open front.
Stylish Look The bed and pillow covers are made with a luxurious micro suede fabric, and are accented with vibrant color hues, giving them an elegant look. They will perfectly complement any decor in your room.
Easy cleanup The removable bed cover and luxurious pillow are machine washable, making cleanup a breeze.
Warranty, Returns, And Additional Information