VOYAGER LEGEND CS
The Office Headset Designed to Go Mobile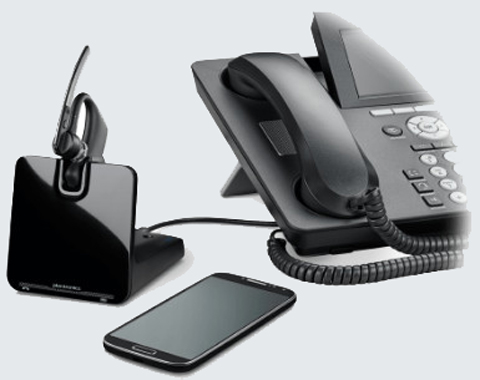 The Voyager Legend CS is meticulously designed to move with you throughout your day. It lets you manage desk phone and mobile/tablet phone calls from a single headset while letting you roam up to 33 feet from desktop charging base or mobile device. Its intuitive smart sensor technology lets you answer calls simply by placing it on your ear, and you can always count on crystal clear audio with noise canceling technology that blocks out nearby voices, car horns, even wind.
Connect to your desk phone. Connect to your mobile. Enjoy intuitive call management and outstanding audio from your mobile phone on the road to your desk phone in the office, and everywhere in between.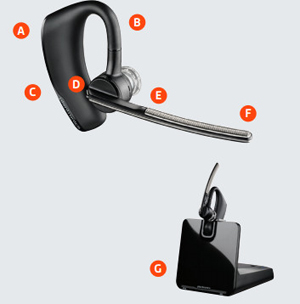 Volume +/-
Comfort-tested for extended wear
Dedicated on/off switch
Call answer/end
Mute/Voice command button
Three precision-tuned mics
Elegant magnetic docking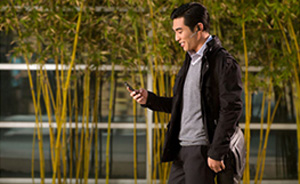 Outstanding Audio Quality
Hear and be heard clearly wherever you take your calls. The headset features a precision tuned triple-mic with enhanced DSP for superior noise cancellation, while advanced WindSmart technology provides three layers of wind protection. Integrated A2DP lets you listen to streaming media from your mobile phone or tablet.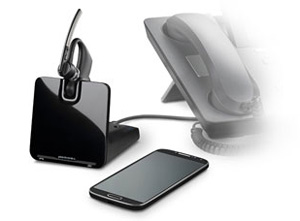 Next Generation Technology
Smart sensor technology creates a seamless and intuitive user experience by automatically answering calls simply by placing on your ear* and automatically transferring calls between your mobile phone and headset.
Note: * Sensor answer feature available for desk phone calls when used with HL10 lifter or EHS cable
Voice Alerts and Commands
Voice command menu lets you use your voice to answer calls, check battery level, redial, put headset in pairing mode and for a host of other headset commands. Caller Name Announcement (mobile only) tells you who is calling without needing to glance at your mobile phone while enhanced voice alerts announce remaining talk time, connection status, battery level and mute, enabling you to work smarter.
Comfortable and Durable
Well-balanced, soft and flexible, this innovative design is perfect for extended wear and all day comfort. Also the moisture-proof coating (P2i) provides increased durability.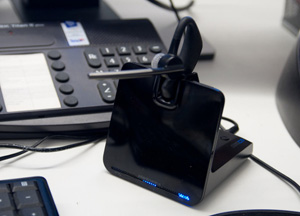 Lon-lasting Battery
The build-in rechargeable battery offers up to seven hours of talk time and 11 days of standby time. The magnetic docking ensures secure connection for worry-free charging.
Warranty, Returns, And Additional Information