PlayStation 3 / PS3 Featured Items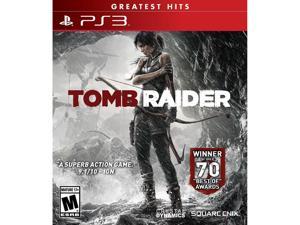 Tomb Raider Greatest Hits PlayStation 3
ESRB Rating: RP - Rating Pending
Brand: SQUARE ENIX
Platform: PlayStation 3 (PS3)
Model #: 662248914954
Item #: N82E16879262112
What Customers Are Saying...
Everything about Newegg is awesome! They ship fast, they have cheap products and great customer service. I recommend Newegg to all of my friends!
See All

Awesome tech deals. Updated bi-weekly.
Learn more
PlayStation 3 Description

PlayStation 3 (officially marketed PLAYSTATION 3, commonly abbreviated PS3) is the third home video game console produced by Sony Computer Entertainment, and the successor to the PlayStation 2 as part of the PlayStation series. A major feature that distinguishes the PlayStation 3 from its predecessors is it¡¯s unified online gaming service, the PlayStation Network, which contrasts with Sony's former policy of relying on game developers for online play. Other major features of the console include its robust multimedia capabilities, connectivity with the PlayStation Portable, and its use of a high-definition optical disc format, Blu-ray Disc, as its primary storage medium. The PS3 was also the first Blu-ray 2.0-compliant Blu-ray player on the market.
PlayStation 3 Games

The PlayStation 3 player can download the PlayStation 3 game from network or buy the game disk from store. There are so many games for PlayStation 3, such like Metal Gear Solid 4(Guns of the Patriots), Dead Space, BioShock, Little Big Planet, NHL 09, Sid Meier's Civilization Revolution, Fallout 3, Eternal Sonata, Far Cry 2, FIFA Soccer 09, Mega Man 9, Brothers in Arms(Hell's Highway), Soulcalibur IV, Battlefield: Bad Company, Spider-Man(Web of Shadows) and etc.